Home » Products » Central Inverters Powador XP Series » XP 550 TL Outdoor
XP 550 TL Outdoor NEW!
Powador XP550-HV TL with a rated AC power of 550 kVA. Suitable as a single unit for PV installations with a generator power of up to 660 kW. With protection class IP54 specially designed for outdoor applications.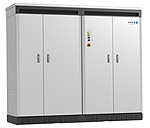 Electrical Data

Input Variables
Max. recommended PV generator power
MPP range
No-load voltage
Max. input current
Ripple voltage
Ripple current

660 kW
550 V … 830 V
1,000 V
1,200 A
< 3%
< 4%


Output Variables
Rated output
Voltage to external transformer
Rated current
Rated frequency
cos phi
Distortion factor for rated output


550 kVA
3 x 370 V (+/- 10%)
858 A
50 Hz / 60 Hz
0.80 inductive ... 0.80 capacitive
< 3 % at rated output power

General Electrical Data
Max. efficiency
European efficiency
Internal consumption
Standby consumption
Grid monitoring
Auxiliary supply


98.5%
98.2%
<1.650 W
< 110 W
acc. to local requirements
230 V



Mechanical Data

Display
Interfaces



Ambient temperature

Cooling
Protection class
Noise emission
EMC
CE conformity
H x W x D
Weight



TFT LCD Touchscreen
RS485 / Ethernet / USB, 4 x analog inputs, 1 x digital input / 1 x S0 input, 1 x digital output / 1 x S0 output, SD card
-20 °C … +45 °C full rated power, no derating
fan (max. 6660 m³/h)
enclosure: IP44, electronics: IP54
< 70 dB (A)
acc. EN 61000-6-2 / EN 61000-6-4
yes
2,250 x 2,600 x 860 mm
1,900 kg
Subject to change without prior notice (10/2012)
Data sheet