Home » Products » Monitoring » Powador-proLOG » Sensors


Efficient and durable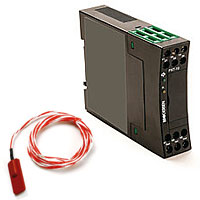 Module temperature sensor with temperature converter
This sensor measures the temperature of photovoltaic modules. To do this, the self-adhesive temperature sensor is attached to the rear of a module. A PT 100 thin film temperature sensor that is supplied with a 2 m long connection cable (wire: 7 × 0.2) is located in the silicon rubber plaster.
The signal for the Powador-proLOG is produced by the temperature converter PXT 10. The line resistances between the temperature sensor and converter are compensated. We also recommend a 230 V AC supply for the Powador-proLOG to relieve the internal power supply of the data logger.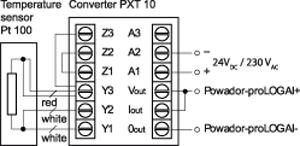 Diagram of temperature sensor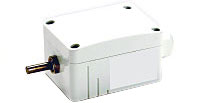 External temperature sensor
The external temperature sensor (type AGS54 ext. TRV1) measures the ambient temperature. It specifies the internal heat dissipation of the modules when compared with a module temperature sensor that is also available.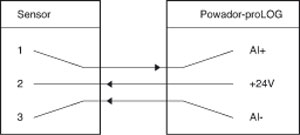 Diagram of external temperature sensor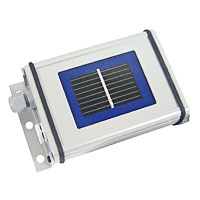 Irradiation sensor
The irradiation sensor is used for the professional monitoring of a photovoltaic system. Based on the measured irradiation, the anticipated yield of a photovoltaic system can be calculated and subsequently compared with the actual yield.
The short-circuit current of a silicon solar cell is proportional to the extent of irradiation. Our irradiation sensors use a monocrystalline solar cell, which is operated via a low-impedance resistance, thus creating a virtual short circuit. The positive temperature coefficient of the short-circuit current leads to a minor measurement error. Therefore, the silicon sensors incorporate active temperature compensation, which reduces these errors by a factor of 20. For this purpose, a special temperature sensor is laminated onto the rear side of the solar cell. All sensors are calibrated against sunlight using a pyranometer (Kipp & Zonen, type CM11).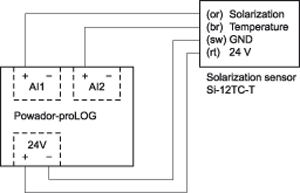 Diagram of irradiation sensor