Home » Products » Monitoring » Powador-proLOG » Powador-web


Efficient and durable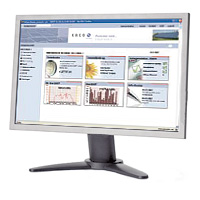 Powador-web is an Internet portal that allows for a comprehensive evaluation and visualisation of photovoltaic installations together with the Powador-proLOG. Access is possible from anywhere in the world via the Internet. Access is password protected. The data displayed depends on the configuration of the data logger. Options cover the energy production over various time periods and for different partial installations including a target/actual comparison of the values of individual inverters such as current, voltage, power at the input and output, module temperature and solar irradiation. Furthermore, alarm conditions and the type of messages can be configured and organised. Data tables can be generated over a longer time period using the report function.
Powador-web diagrams can be included on your own website for a one-off charge.
Powador-web
High-end solution for comprehensive remote monitoring
Graphic presentation and display of all measured values
Compatible with all operating systems
Automatic data transmission
Comprehensive alarm parameters
Alarm sent by Email, fax or SMS
Summary of all Powador-proLOG installations in an installation park
KACO configured data logger using the registration form
Low annual fee

free monitoring of PV plants up to 10 kW

NEW: mobile access to Powador-web via iPhone application.
Registration
You can register your PV plant at any time. Simply use the PDF below.
Powador-web iPhone Application


Do you own an iPhone and do you carry it always with you? And you want to know the yield of your PV plant? With the Powador-web app you have access to all current data of your Powador inverter.
What you have to do is download the application onto your iPhone. With your access data you can log-in and get all the information like energy yield or particular data like current, voltage, power rating at the in- and output and many more.
DSL-Postbox
The Powador-proLOG with network connection (Ethernet 10/100 Mbit) is equipped with a special DSL function: the DSL postbox.
This requires a DSL connection and access to Powador-web. The DSL connection makes it possible for Powador-web to assign tasks to the Powador-proLOG in a private local area network (LAN). You can use this function to retrieve missing data (for example). This provides for bidirectional communication between Powador-web and the Powador-proLOG, which would normally be prevented when using DSL because of safety measures (e.g. a firewall). The DSL postbox also updates the measured data in Powador-web every hour.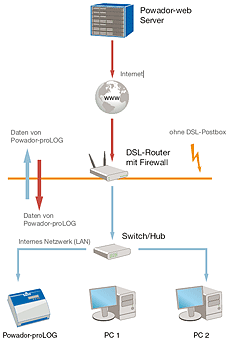 Registration form Powador-web
Format: PDF
Size: 1.57 MB
Version: 3.0