Home » Products » Monitoring » Powador View


Efficient and durable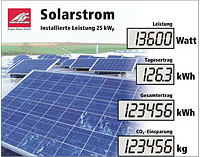 The large display Powador-view is universally adaptable to all Powador inverters. It can be directly controlled via the SO interface of the Powador inverter or via the SO interface of the Powador-proLOG. The display processes the electricity meter pulses and produces all the data from the same:
current output
daily output
total yield
CO2-reduction (optional)
No additional adapter or data logger is needed. If the system does not have a Powador-proLOG, or deploys several inverters, you can obtain a suitable electricity meter from us. In the event that you are already operating an electric power counter with pulse output, or are scheduled to install the same, we can usually adapt the display.
Data Security
The data from your total readings is regularly stored in non-volatile media. It is consequently safe in the event of a power cut or system reset. The meter recording the daily output automatically resets itself to the zero point over night.
Individual Design
There are two standard designs to choose from, which can be modified with text and logos in a project-oriented way to fit your needs. Photo templates can also be processed. The four-color printed front (UV system) is protected under perspex and laminated for weatherproofing
Setting Options
The total energy data can be initialized to a starting value by pressing a button, whereupon the actual process of adding up the kWh begins.