Home » Products » Monitoring » Powador-proLOG » Powador-go


Efficient and durable
Current sensor for direct and alternating current.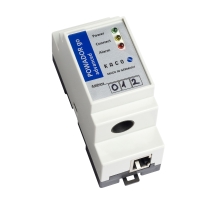 The Powador-go enables the user to measure direct and alternating currents with ease. As an accessory for the large Powador-proLOG data logger, the current sensor has two additional options:
It allows more than 31 inverters to be included in monitoring.
It also allows the monitoring of inverters without the RS485 interface with the Powador-proLOG.
Powador-go
Suitable for AC and DC (specify with order)
Galvanically isolated current measurement
Two versions:

Advanced (RS485 not optionally isolated)
Premium (RS485 optionally isolated)

Simple installation on top hat rail
Simple wiring using standardised plug contacts (RJ45)
Signalling using three status LEDs
Flexible number of sensors via bus communication (RS485)
Up to 100 Powador-go units can be connected to one Powador-proLOG
Up to seven Powador-go units can be supplied with power using the power supply of the Powador-proLog (24 V/320 mA)
The current measurement range must be specified with the order when using with the Powador-proLOG.
A repeater is required for more than 32 bus devices. Observe the following:
data loggers, repeaters and Powador-hub units also count as bus stations